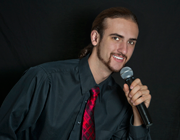 I have been a professional DJ and MC for ten years. In that time, I have done many different types of events, but sweet sixteens have always been some of my favorites. I love to be a part of such an important milestone, and I love working with teens to create a personalized and unique celebration that brings out their unique personality, and keeps their friends laughing, interacting, and dancing.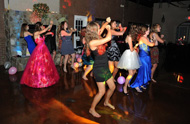 My focus is on making sweet sixteens fun, unique and memorable. I like to bring out the birthday girl's personality during the event. In some ways, I use my background in weddings to add to what I am able to do for a sweet sixteen. This includes planning a personalized grand entrance, father/daughter dance, toast speeches, cake cutting, interactive games, and, in some cases, a last dance and grand exit at the end.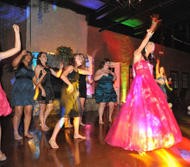 I work closely with the birthday girl (and sometimes a parent) to plan out every detail of the event in a series of in-person meetings. During these meetings, we use my detailed 20-page planning packet as a guide.
When you book me for a sweet sixteen, you are guaranteed to get me, personally. I have completed extensive specialized training in DJing and MCing, such as Peter Merry's renowned intensive training programs "The Professional Process", and "Make it Grand". I regularly attend mobile DJ conventions and stay active in the community. I am a charter member and officer of the East Tennessee chapter of the American Disc Jockey Association. I am a member of the Eastman Toastmaster's Club, and I have completed extensive training in public speaking, and theater at ETSU, as well as training in comedy and improv.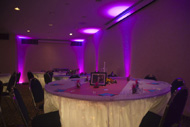 I offer a wide variety of lighting options, ranging from elegant colored uplighting matched to your event's colors, and custom monogram projections, to dance floor effect lighting, including as strobe lights, lasers, fog machines, black lights, and all sorts of other spinning, flashing, colorful gizmos that light up the dance floor.
Although my services are specially taylored to sweet sixteens, they can easily be applied to any birthday party or quinceañera. I have performed at everything from first birthday parties, to 70th birthday parties. And, in spite of my web site being pink and purple, I do also frequently plan and DJ birthday parties for guys!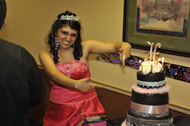 Because I provide a highly personalized service, I do require an in-person meeting before I give a price quote so that I can find out more about what you're looking for, and give you a price quote that fits. I prefer that the birthday girl be present for this meeting, but it is not required. I am based out of Johnson City, but if you live within an hour drive of Johnson City, I will come to your area for this meeting. We can either meet at a cafe or restaurant in your area, or I can come to your house if you prefer. Meetings do NOT have to be during business hours. If you live a long way from Johnson City, I prefer to have this meeting over webcam if possible.